X-RAY DETECTOR
IX-G Series
Weighter Function
Genetic Algorithm S/W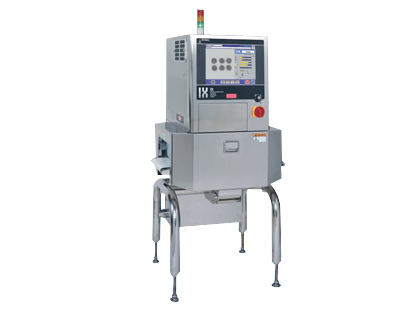 MACHINE DETAIL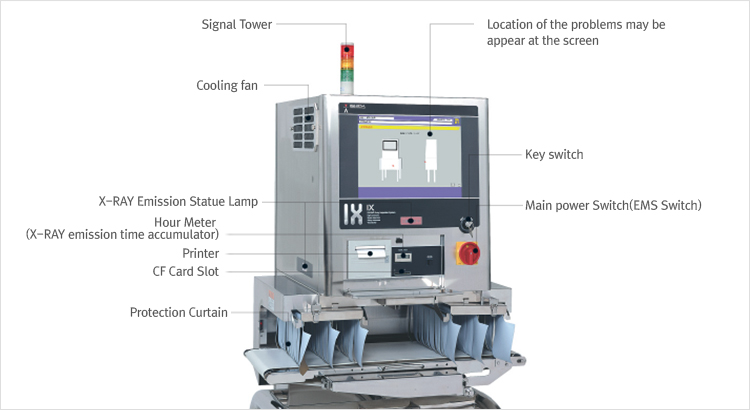 OPERATIONAL ADVANTAGE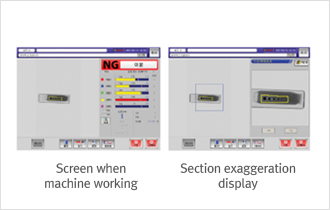 Clear, easy to read 15" touch
User friendly easy touch panel
Enhanced operability by touch screen and display screen
Image expandable while working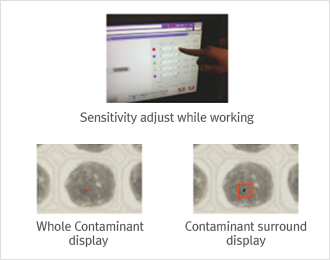 OPERATIONAL ADVANTAGE
Enhanced automatic setting feature : Test 1~3 more times can
set X-RAY out emission power Image emphasis, intensity level
automatically
Windows-Xp as OS : Agile operaion and information
processing capacity has been enhanced
Worming up time has been shorten
No Routine Recalibration : There is no periodically calibration
while machine working
Calibratable while the machine is working : User can calibrate
while machine is working by freeze frame
Detect 2 kinds of contaminant at the same time
RELIABILITY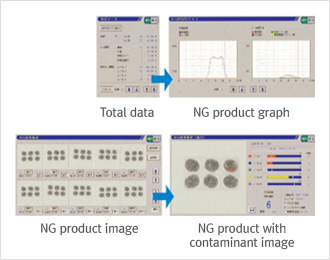 Various data administrate is able.
Many data can be verified while working
Data management with CF card
User can store a total data and NG product image
Stability
Stability
This machine is designed to emit X-RAY only inner body of the machine. There is only 1uSv/h is leaked to out side of the
body and this figure is corresponding to the Ministry of Science and Technology of Korea Notification No.2004-18
'Criteria of Radiation Instrument Design Acceptance and Examination'
Food absorbed dose is (0.1Gy) corresponding to Food Sanitation Act relate rule
Safety caution for worker
Front and side green lamp is on when X-RAY is emitted
If a front door is slightly open, the X-RAY emit stop immediately
If protection curtain and conveyor are installed uncorrectly, the X-RAY emit stop immediately
There is prohibition sticker about user's body insertion and If the body is inserted into the machine, it stops immediately
Safety caution for product
If the product is stayed at the emission unit, the X-RAY emit stop immediately
When this machine start to work, the machine discharge for a while
Cope with HACCP
This machine can detect HACCP physical hazard element such as metals, rocks, glasses, and plastics. Since 2006,
If fish meat product, frozen sea food, frozen food, ices food, non heated beverage, retort food are manufactured and
processed, HACCP must be appalled.
United state, Japan, Europe Union, International organization(Codex, WHO, FAO) advice to follow HACCP standard.
CLEANLINESS
Stainless steel construction conforms to HACCP
간단하게 분해해서 물로 씻는 것이 가능
Waterproof conveyor designed to IP66 and no tools required to remove
Open framework provides easy access for sanitation

FUNCTIONALITY
Patent GA(Genetic Algorithms)
High precision detection of foreign bodies by the evolutionary image processing
Employing the latest technology evolutionary image processing
The biological evaluation mechanism is applied to image processing. Computer do the optimization itself.

Principle of X-RAY Inspection
Product on the conveyor is irradiated 재소 X-RAY that are then received by the liner sensor, Unique 5-level image
processing software detects foreign object or missing products by processing the received X-RAY image

Missing item inspection and Weight analysis
Multiple judgment criteria

Masking Function

Line Sensor Output Progress Can Be Monitored
By monitoring the line sensor output progress user can check the life time of it so user can prevent the emergency
machine stop.

Advantage
IX-G Series has 5 advantage about product manufacture line
Conventionally, customers had to spend valuable cost and lead time on tailor made software when they needed ro detect
specific foreign objects or inspect product. With ISHIDA's original GA evolutionary image processing the operator can
automatically generate the optional sensitivity setting
Functionality
With GA image processing algorithm, variable foreign objects can be detected
GA weight analysis function estimate the product weight from a transparent X-RAY image
User Fiendly Operation
Easy guide line with 15' wide screen
IX-G Series 제품소개 :
본 제품은 일본 유통산업분야에서 110년 이상의축적된 기술력을 바탕으로 ㈜ISHDA에서 개발된 신규 ITEM으로서 세계 최첨단 글로벌기업의 자존심을 걸고 개발된 제품입니다. 종래의 금속검출뿐 아니라 금속검출기에서 불가능했던 비금속 이물(유리,돌,경골,고무등)의 검출에도 탁월한 성능을 발휘하며 특히 식품을 금속으로 포장하고 있는 용기(알루미늄 포장재, 통조림캔 등) 내의 이물검출도 가능하게 한 제품으로 식품가공업체의 PL 및 HACCP대용등 품질관리에 탁월한 성능을 발휘 할 수 있는 최첨단의 이물검사기기 입니다.
Reliability
All inspection results and operation logs are automatically stored with a time stamp, providing a reliable control point
for production quality records
Sanitary
The conveyor chamber conforms to IP66, suitable for high pressure washing.
Safety and Security
There is full safe interlock for both operators and inspected products
STANDARD SPECIFICATION
Model / Model
IX-G-2450/IX-G-2475
IX-G-4075 / IX-G-4075-A
X-RAY Tube Voltage
25~50Kv/20~75Kv
25~79Ky
X-RAY Tube Current
1~5mA/1-8mA
1-8m
X-RAY Output
max150W/max800W
300W
X-RAY Protection
Protective Curtain (rapidly detachable)
Protective Curtain (rapidly detachable)
X-RAY Emissions
1 μSv/h or less, including conveyor
entrance/exit
1 μSv/h or less, including conveyor
entrance/exit
Product Configuration
With or without packings
With or without packings
Inspection Chamber
Length
20~450mm (intermittent flow)
20~450mm (intermittent flow)
Width
~240mm
~400mm
Height
~120mm
~150mm/220m/m
Conveyor
Material
FDA approval type urethane
belt(white)
FDA approval type urethane
belt(white)
Dimensions
800mm(L) 270mm(W)
800mm(L) 430mm(W)
Speed
10~60m (option:90mhm)
10~60m/hm
Conveying weight
max : 2kg/ option : 4kg
(but at 10~30 m/min belt speed)
max : 5kg/ option : 10kg
(but at 10~30 m/min belt speed)
Power supply
Phase AC220V/500W 3.5A 60Hz
/650W,45A(voltage variation: 0.10%)
Phase AC220V/700W/
5A/60HZ(voltage variation: 0.10%)
Protective Construction
ip 65(inspection chamber)
ip66(inspection chamber)
Operation Temperature
ambient temperature : 0~ 350 ambient humidity 30~85
ambient temperature : 0~ 350 ambient humidity 30~85
Product Preset
100set
100set
Machine Weight
190kg
230kg
Control Unit
15' Touch panel
15' Touch panel
OB
windows xp
windows xp
Noise
under 75db
under 75db
DIMENSIONAL DRAWING

Inspection Range